THE QUARTERBACKS
In the closing moments of the Bucs underdog victory at Green Bay, a feeling of head-shaking amazement washed over NFL fans young and old: Could 43-year-old Tom Brady really do this again? In a sport where even the most durable quarterbacks are washed up by their late 30's, Brady soldiers on at an age when most men are ordering hair-growing cream or buying Corvettes to feel younger.
Dropped onto a brand new team coming off a 7-9 season, Brady responded with 4,633 yards and 40 TD passes, the most since he was slinging darts to Randy Moss in 2007.While an 11-5 record was a terrific turnaround, the New Orleans Saints waltzed to the division title after whipping the Bucs twice by a total margin of 72-26.Entering the postseason as a Wild Card, only the Rams and Browns were given longer betting odds to win the Super Bowl.
Oddsmakers underestimated Tom Brady. After dismissing the Washington Football Team in the opening round behind his 381 passing yards, the nemesis Saints remained stubbornly in the way. Utilizing ball control on the ground and taking advantage of turnovers from an erratic Drew Brees, Tampa Bay sent New Orleans to an early offseason and rendered the Saints regular-season dominance meaningless. It also sent the 42-year-old Brees into retirement, finally crying 'Uncle' on a Hall of Fame career that simply could not outlast the ageless Brady.
That brings us back to the Conference Championship at Green Bay against the younger and likely NFL MVP Aaron Rodgers. It was Tampa Bay's defense that was the biggest story, sacking Rodgers five times and allowing the Bucs to jump to an early lead they never relinquished. Tampa Bay was going to the Super Bowl, the first team in 55 years to play that particular game on their home field. It's almost as if the football Gods were holding off until only Tom Brady, the Greatest-Of-All-Time, could be the first. Love him or hate him (and plenty of people do), it must be acknowledged that he's had a phenomenal career, a career that incredibly still seems to have a chapter or two left.
While Brady enters middle age, a quarterback that's literally young enough to be his son has rapidly seized the title of Heir Apparent. When Andy Reid traded up to grab Patrick Mahomes in the 2017 NFL Draft, many people wondered if he knew something the rest of us did not.
Turns out he did.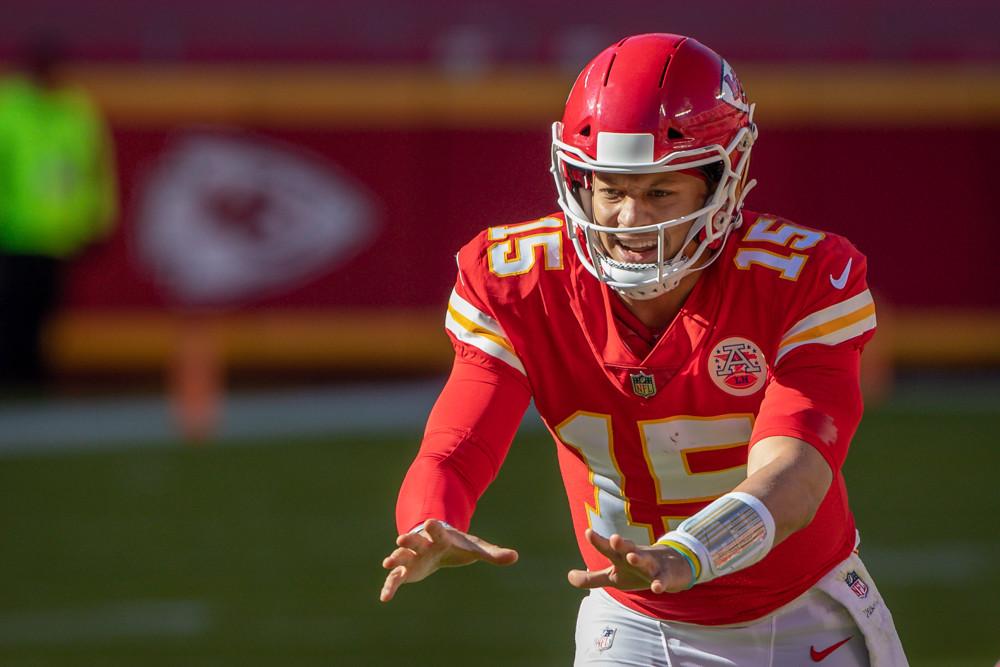 After 50 TD passes and a 12-4 record his first year as a starter (2018), only Brady and the Patriots (who else?) could end the Chiefs run in the postseason. I was one of the millions of awed people who persistently thought of one single word while watching Mahomes carve up defenses: unstoppable. He had the mobility to continually get out of trouble, and the arm talent to reach every nook and cranny of the field. While the King of QB's had overshadowed the Prince that season, anyone watching knew that Patrick Mahomes was going to be back, likely over and over and over again.
"Back" turned out to be the following year. Riding yet another 12-4 season, this time the Chiefs would win all three postseason games by double digits, capturing their first Super Bowl title since 1970. At only 24 years old, Mahomes had already accomplished what Dan Marino, Jim Kelly, and Warren Moon could not. If there was any one player who actually made a $500 million contract extension look reasonable, it was Mahomes.
Heading into 2020, who could rise to challenge Kansas City? To date it's been no one, as they went 14-1 until sitting the starters for the final game. After surviving a scare in the postseason game against the Browns in which Mahomes left early with a concussion, Kansas City got back on track with a dominant win over an outstanding Bills team behind 325 yards and 3 TD's from their now-healthy signal caller.
THE GAME
Super Bowl LV is about a lot more than Tom Brady and Patrick Mahomes. While the focus will likely remain with the quarterbacks and the offenses as a whole, it's likely the team who plays the best defense against these top offenses that's going to come out on top. These two teams met in Week 12 of the regular season, a 27-24 victory for Kansas City.
On offense, the Bucs and Chiefs are both similar statistically. While Kansas City ended up with the most total yards in the league, Tampa Bay actually scored more points per game (30.8 to 29.6). The teams finished in the top 2 in the NFL in passing yards, while the Chiefs were a better rushing team (112 vs 95 YPG).
Both teams have terrific offensive weapons. The Chiefs WR Tyreek Hill (87/1,276/15) and TE Travis Kelce (105/1,416/11) are matchup nightmares and form a triumvirate with Mahomes that is one of the greatest in the history of the NFL. Their dominance continued into the postseason, with Hill and Kelce combining for an astounding 509 yards in two games. In Week 12, Mahomes threw for 462 yards (269 to Hill) and 3 TD's (all to Hill) against this Bucs defense, while completing over 75% of his passes. However, the majority of those yards came in the first half, with the Bucs defense adjusting and forcing three Kansas City punts (and only 7 points) in the second half. In the last two Bucs playoff games (Saints & Packers), the defense intercepted two Hall of Fame quarterbacks 4 times and sacked them 6 times. Are we seeing DC Todd Bowles defense peaking at the right time? The Tampa Bay faithful sure hope so.
On the Bucs side, the ball is spread around through the air with a bit more diversity. Mike Evans (70/1,006/13) remains the top dog, but Chris Godwin (65/840/7) and Brady sidekick TE Rob Gronkowski (45/623/7) are also dangerous. In the postseason, Godwin has led the way with 223 yards, while underrated TE Cameron Brate has chipped in with 149. Against this Chiefs defense in Week 12, Brady threw for 345 yards and 3 TD's, with Rob Gronkowski having his only 100 yard game of the season. Brady also threw 2 interceptions, crucial mistakes he cannot make again if he wants to add a 7th trophy to his mantelpiece. The Bucs pass catchers have also been plagued with drops this postseason, an inexcusable trend that cannot continue.
If Tampa Bay coach Bruce Arians really wants to finally add a ring to his resume, he'll need to focus on the only sure way of stopping Patrick Mahomes: keeping him completely off the field. RB's Leonard Fournette and Ronald Jones are key components in this contest, with Fournette getting the majority of the postseason carries. However Jones, finally healthy, is much more of a home-run threat (5.1 YPC during the regular season) and could be a real difference maker with a long run or two; he had a 34-yard run against the Chiefs in Week 12. One way or the other, it is crucial for the Bucs to sustain drives and control the clock; 3-and-outs are a cardinal sin with Patrick Mahomes on the opposing sideline. For the Bucs to win this game, it's going to be up to Brady to work his magic in crucial 3rd down situations.
FANTASY SLEEPERS
Mecole Hardman, WR, Chiefs: With Tyreek Hill certain to receive extra attention and Sammy Watkins still ailing, it's the explosive Hardman that could find himself wide open over and over again. He also returns kicks and punts and even had a 50 yard carry against the Bills.
Scotty Miller, WR, Bucs: Antonio Brown will either miss the game or be limited, and that's great news for Miller, who scored a 39-yard TD against the Packers. If the game turns into a shootout, Miller could really surprise.
Cameron Brate, TE, Bucs: While Rob Gronkowski is the media darling and future HOF'er, it's Brate who has been getting all the postseason catches (11 to 2) while Gronk has been used more in blocking role.
CONCLUSION
This game comes down to one thing for me: Patrick Mahomes is simply too much to overcome. He's an absolute wizard at moving the chains and is excellent at protecting the football. As much as I'd love to see an explosive back-and-forth between these two legendary quarterbacks, I see Kansas City jumping out to an early double-digit lead and forcing Tampa Bay to be one-dimensional, something even Tom Brady cannot sustain. Forcing the pass to often butterfingered receivers is going to lead to interceptions; I expect to see an angry Brady walking off the field far too often during this contest. Garbage-time scoring from the Bucs makes the final score look closer than it really was.
Chiefs 38, Bucs 30
MVP: Patrick Mahomes
Aaron Bland